Breadcrumb Navigation
The Sunflower Fields of Nayoro
The Sunflower Fields of Nayoro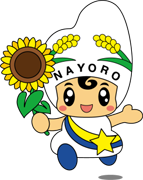 In Nayoro you can see lots of sunflower fields. Whether grown for their edible seeds, which yield a useful oil, or for their viewing pleasure, there are over 60 hectares of sunflowers under cultivation in the city. There are sunflower fields in the mountains, sunflower fields on hillsides, and sunflower fields adding to the beauty of rural landscapes such as Sun Pillar Park Sunflower Field. This 3-hectare field covers a slope with a panoramic view of the city, and was used as a location in the 2011 film "Star Watching Dog".
You can also see numerous sunflowers here and there in the city that have been planted by citizens of Nayoro.
Come visit Nayoro, "the city covered in sunflowers".